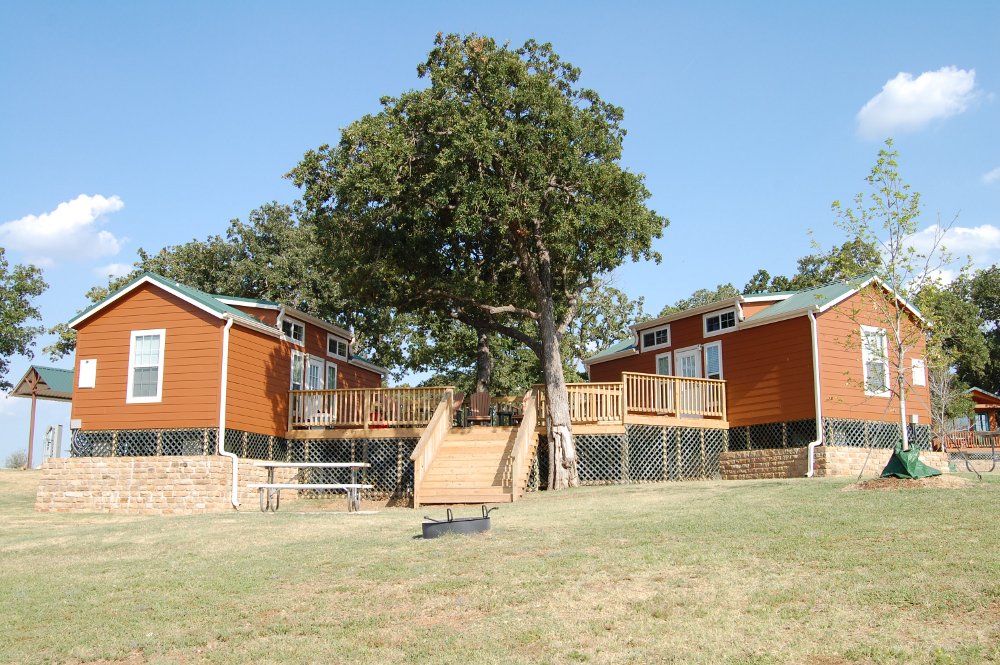 There are two primary lake cabin locations for rent on Lake Grapevine. They are available at The Vineyards Campgrounds and Cabins and Twin Coves Park.
Vineyard Campground Cabins
There are 14 cabins available for rent here. Each cabin comes with linens furnished, Wi-Fi, Central heat & air units, cable TV and most have a full kitchen with dishes. For your outdoor enjoyment, most cabin guests have use of a comfortable porch with gliders, fire ring, grill and picnic table.
These cabins are right on the lake offering great views of Lake Grapevine from your porch. A short walk down to the lake or dock allows for some great bank fishing.
There is a beautiful swim beach within this campground that is only available to those who stay at the campground. It is the nicest beach and swim area on the lake.
The Vineyards Campgrounds have recently added additional parking, a huge new restroom / wash room facility, upgraded the boat ramp and courtesy docks, and added a very nice camp store for sale of miscellaneous camping items.
There are also golf carts for rent and kayaks for rent at the Vineyard's Campground Store.
For Reservations: 817-329-8993
Toll Free: 888-329-8993
You can also get detailed information on each cabin and make reservations at the Vineyard's Campground website.
Vineyardscampground.com
Vineyard's Campground and Cabins is located at:
1501 N. Dooley Street
Grapevine, TX 76051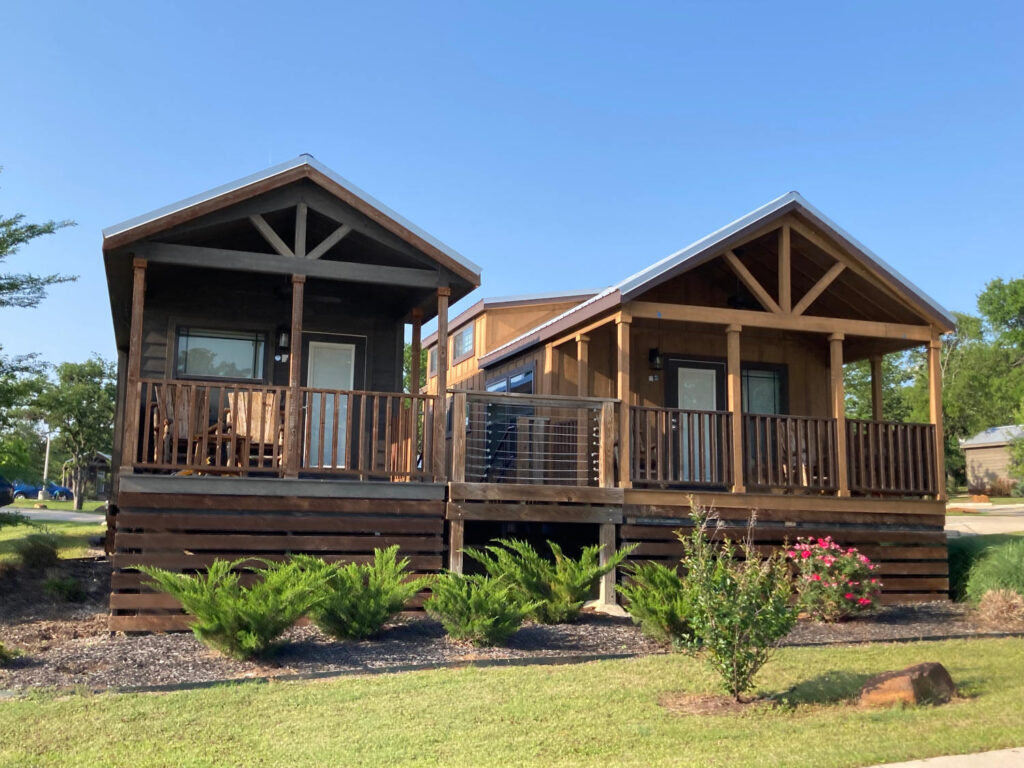 Twin Coves Park Cabins
The Twin Coves Park Cabins (pictured directly above) are a wonderful getaway on the north side of Lake Grapevine in the Town of Flower Mound. These cabins are within the best park on Lake Grapevine. There is a pavilion, boat ramp, camp store, kayak rentals and more all within the park.
Cabin amenities include:
Plates
Bowls
Glasses
Coffee cups
Utensils (Forks, spoons, knives)
Spatula, variety of mixing spoons
Pots/pans (variety)
Glass 9″ x 5″ casserole dish
Coffee maker (Drip)
Toaster
Manual can opener
Bottle opener
Dish towels
Dish soap
Dish scrubber
Dishwasher
Dishwasher detergent
Paper towels
Bathroom/Bedroom
Toilet paper
Shampoo, conditioner, and lotion
Linens (pillows, sheets, thermal blanket, comforter, towels, hand towels, and wash cloths)
These are our favorite cabins to rent on Lake Grapevine. You can find more information and make reservations for these cabins at the Town of Flower Mound website.
Located at:
5001 Wichita Trail, Flower Mound, TX 75022
972.874.6399