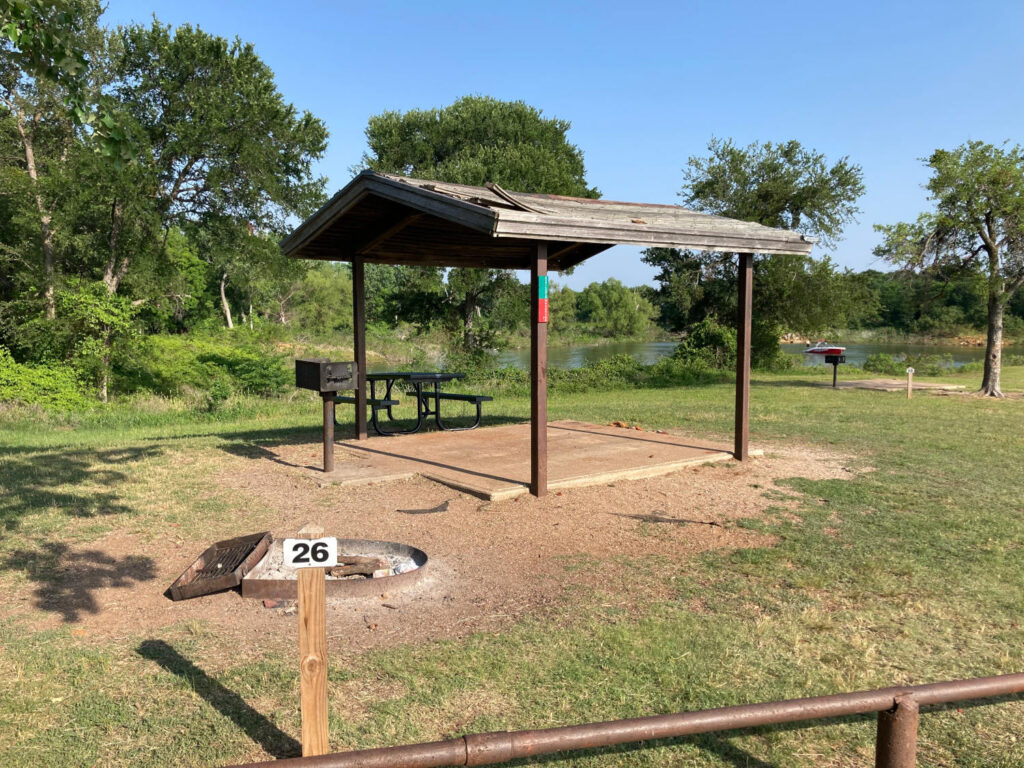 If you are looking for a great place to camp on Lake Grapevine, Murrell Park is the perfect place for you. This park and campground is located in the City of Flower Mound on the north side of Lake Grapevine. The park is operated by the Army Corps of Engineers. You will not find better camping on Lake Grapevine and probably not within Dallas-Fort Worth.
There are plenty of campsites with covered picnic areas and fire pits. Most sites are in heavily treed areas offering plenty of shade. These sites are located along the bluffs and shores of Lake Grapevine offering great views of the lake. All sites are non-electric sites.
Within the park there are numerous places to fish from the small rocky bluffs over some of the lakes main points.  There are fishing trails within the park that will tell you where to go.  There are also hiking and biking trails throughout the park including the northern end of the 8-mile North Shore Trail.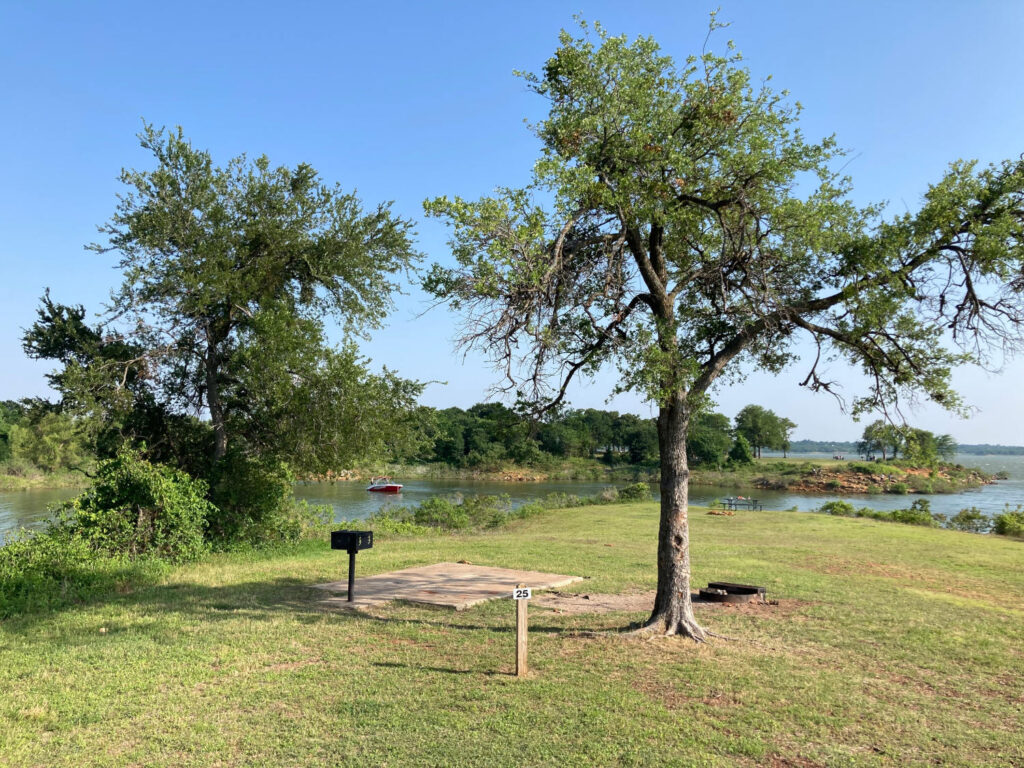 There are restroom facilities within the park and campground.  And you are just a short drive away from Twin Coves Marina and Rockin S Bar and Grill if you decide that cooking out over an open fire does not work for you.
This is a really great park and one of the best campgrounds on Lake Grapevine.  There is a fee required to camp.
You can reserve a campsite online at Recreation.gov.
Our take on the available campsites:
Campsites 1 through 7 have no water or electric. They also do not have picnic tables. They do have tent pads and fire pits. Only site 2 has a cooking grate on its fire pit. The others are just open pits surrounded by rocks so plan accordingly.
Campsite #1 is a great spot at the edge of a small cove. You do not have any neighbors here, but are close to the parking for sites 1 through 6.
Campsite #2 is good, but it is not on the water. It is also in the middle of a walking path to site 3 which means you may have people walking through your campsite. The good news is it is on the good side of a hill that blocks wind coming off the lake on those windy days. It is about a 30 yard hike from the parking area. Campsite #2 does have a fire pit with cooking grate where as the others in this area do not.
Campsite #3 is a beautiful campsite with water from a cove on two sides. The site is also blocked by a hill from the wind off the main lake. The only negative is that it is a 70 to 80 yard hike from the parking area over rocky terrain. It is not easy to bring a lot of gear to this site.
Campsite #4 also has a great view similar to site 3. It is up on the cliff though and does get impacted by wind coming off the lake. It also is an 80 yard hike from the parking area.
Campsite #5 has a beautiful view of the lake and is located on a main lake point. This means you catch all the wind off the lake, but on calm days this site is one of a kind. There is a bit of a hike to this site as well.
Campsite #6 is on the cliffs of the main lake and also has great views of the lake. It does not have a lot of shade and is a 30 or so yard walk from the parking area.
Campsites 7a and 7b are located right next to each other. The are located along the road so you can basically unload you gear from your vehicle right to the site. These are well shaded sites and are right next to each other so they might be good for larger groups if you reserve both sites.
Campsites 8a, 8b, and 8c are similar to 7a and 7b although slightly closer to the lake. These are good sites that have plenty of shade and easy vehicle access.
Campsites 24 through 34 are completely different than the sites listed above. These sites are on a cliff that overlook the cove that goes to Twin Coves Marina. These sites have large trees to provide plenty of shade and are off of the main lake so there is somewhat less wind. They also have covered picnic tables which come in handy and fire pits. These sites are easy to access from your vehicle.