North Shore Trail is one of the most popular hiking and biking trails in North Texas. The trail runs for that runs for 9 to 10 miles from Rockledge Park to Twin Coves Park on the north side of Lake Grapevine.
North Shore Trail offers up moderately difficult terrain and beautiful views from the lakes cliffs and shores. The trail is safe for both bicycle riders and hikers, but you should use caution as there are some rough points. We will show a video at the bottom of the page that displays some of the terrain.
You can start either in Rockledge Park, Twin Coves Park, or Murrell Park. All three parks have trail heads and designated parking for the trail. There is a fee to enter Rockledge Park, but you can get on the trail from Murrell Park and Twin Coves Park. At Twin Coves Park, there is a fee as well, but if you park right outside the gate you can enter North Shore Trail for free.
Call this number for Trail Status: 817-454-1058
Trail Rules
Helmets required for bikes
Stay on Marked Trail
No Alcoholic Beverages
No Glass Containers
Pets on Leash
No Motorized Vehicles
No Camping
No Ground fires
No Horses on Bike Trails
Amenities of the trail include:
Restrooms
Pavilions, picnic tables and grills
Gas/food in Grapevine or Flower Mound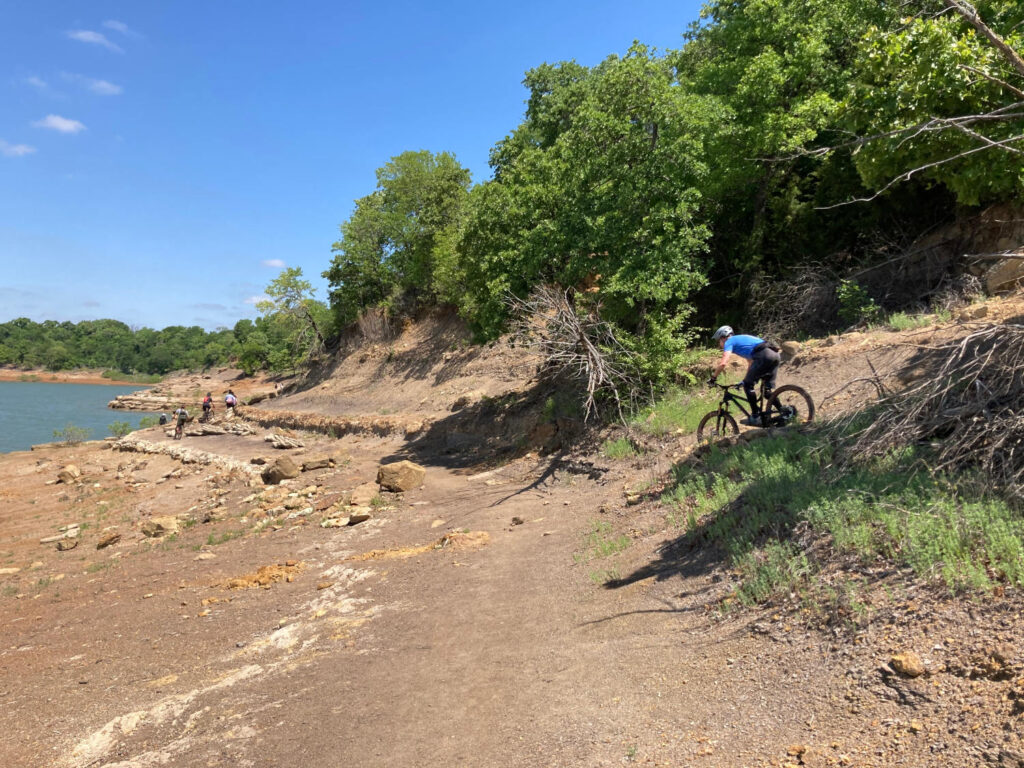 North Shore Trail is accessible year-round, but does close at times due to weather. Mostly the closures are from heavy rain and mud on the trail.
This trail is a lot of fun. If you are a hiker, you do have to be wary of the bikers zipping around as the trail is pretty small in parts. If you like hiking without bikers around, we recommend trying the great trail at Eagle Mountain Park on Eagle Mountain Lake.